Do Something Beautiful: The Story of Everything and a Guide to Finding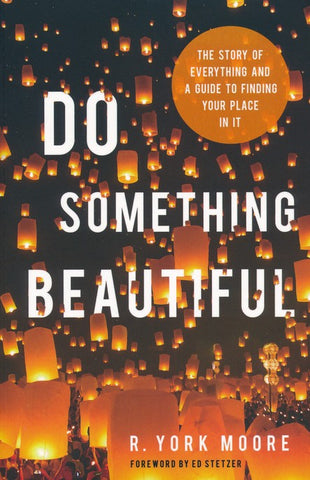 Do Something Beautiful: The Story of Everything and a Guide to Finding Your Place In It
ISBN: 9780802417121
Weight: 0.2 kg
Description:
Product Description
Do you find yourself chasing "something more"?

We are people seized by longings we can't seem to satisfy. It's built into us—in our very bones. We were created with an innate desire to be a part of a world and a story bigger than ours. Sadly, however, most of us spend our lives blind to the fact that this story and this world are right in front of us, beckoning to us to come and play our part. We keep on with our focused, relentless pursuit of everything else and find ourselves dissatisfied.

In Do Something Beautiful, York Moore shows you how to:

reframe your own story and begin seeing God's story breaking into your life in the everyday moments
leave behind mediocrity and be a part of that beautiful story, and
make your life count for something that matters.
Don't give up on your "something more." Chase it better.
Product Information
Title: Do Something Beautiful: The Story of Everything and a Guide to Finding Your Place In It
By: R. York Moore
Format: Paperback
Number of Pages: 192
Vendor: Moody Publishers
Publication Date: 2018
Dimensions: 8.00 X 5.25 X 0.44 (inches)
Weight: 8 ounces
ISBN: 0802417124
ISBN-13: 9780802417121
Shipping and Delivery:
Products are shipped around 3-5 business days in Metro Manila, and 5-7 business days outside Metro Manila, upon payment confirmation.
Weekends and Holidays not included.