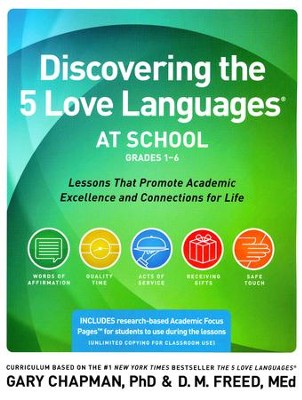 Discovering the 5 Love Languages at School (Grades 1-6): Lessons that Promote Academic Excellence and Connections for Life
ISBN: 9780802412096
Weight: 0.45 kg
Description:
Kids have their own "love language" that make them feel appreciated and valued, just like adults. Learn to apply the concepts from Gary Chapman's bestselling "The Five Love Languages" book to the classroom with this unique guide to connecting "love language" research with the classroom. The eight included lessons are scripted, and include an objective and "anticipatory set" and teaching/preparation. Boxes are separated out with different content for different grade ranges. Small reproductions of the reproducible worksheets that should be used with that portion of the lesson are included. By the end of the course, students will have been introduced to the five love languages. For use with grades 1-6. 185 pages, softcover.
Product Information
Title:

 

Discovering the 5 Love Languages at School: Lessons that Promote Academic Excellence and Connections for Life (Grades 1-6)
By:

 

Gary Chapman, D.M. Freed
Format:

 

Paperback
Number of Pages:

 

224
Vendor:

 

Northfield Publishing
Publication Date:

 

2015
Dimensions:

 

11.00 X 8.50 (inches)

Weight:

 

1 pound 7 ounces
ISBN:

 

0802412092
ISBN-13:

 

9780802412096
Ages:

 

6-12
Series:

 

5 Love Languages
Shipping and Delivery:
Products are shipped around 3-5 business days in Metro Manila, and 5-7 business days outside Metro Manila, upon payment confirmation.
Weekends and Holidays not included.