Devotions for Teacher-Moms: Moments of Rest and Refreshing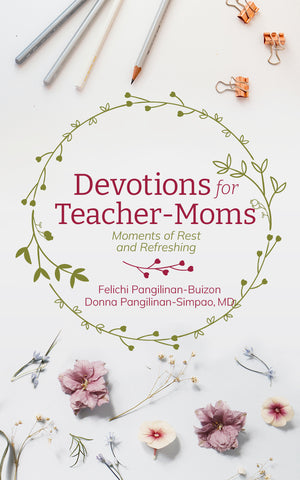 Devotions for Teacher-Moms: Moments of Rest and Refreshing
ISBN: 9789710099061
Weight: 0.3 kg
Description:
"What a beautiful image the Lord provides for our learning environment—children learning from a humble teacher, children finding rest instead of distress from a teacher who's gentle and humble"
Mothers already carry a ton of responsibilities at home, at work, and in the community. Now, they are also Teacher-Moms to their children, either in homeschooling or remote learning. This can feel overwhelming.
Felichi Pangilinan-Buizon and Donna Pangilinan Simpao, Teacher-Moms who saw their children through decades of home learning, know how it is. They've experienced being exhausted, discouraged, and doubt-filled. In this weekly devotional, they offer fellow Teacher-Moms encouragement for the times when they feel overburdened and practical tips on teaching and pressing on.

About the authors:
Felichi is a host of the inspirational show The 700 Club Asia since 2005. She is also a motivational speaker to women audiences on topics such as character, power of play, and positive parenting. Married to Dr. Josh Buizon for 30 years, Felichi homeschooled her four children—Talitha, Joshua, Kaila and Ryan—from 1997 to 2017. She tutored primary learners, and recently completed an online course on "Teaching Character, Creating Positive Classrooms" at the Relay Graduate School of Education. She is contributing writer for CBN Asia's first Taglish devotional, Tanglaw, and co-author of I Love You, Yaya Handbook, a primer for childcare, and as well as The Little One's Journal, the first-ever local journal for kids three to seven years old. Know more about Felichi through her social media channels: Instagram: @titafishy Twitter: @FelichiOfficial.
Donna has been a homeschooling practitioner and advocate since 2001. She founded the largest online homeschool support group on Facebook for Filipinos, "Homeschoolers of the Philippines" in 2013. From 2018 to 2020, she served as the President of the Homeschool Association of the Philippine Islands (HAPI). Donna has co-written Kidstarter Curious Curriculum, a complete preschool program (https://kidstarter.ph). She also shares about her family's homeschool journey via her blog http://homescool.ph/. Donna is a member of Christ's Commission Fellowship since 1987 and has served in its various ministries to children, the youth, mothers, and women. Currently, she is the Chairman of the Board of Visions of Hope Christian School. After homeschooling her children Donna resumed her medical practice as a primary care physician focusing on integrative nutrition and preventive medicine. Donna and her husband Gilbert have been married for more than 25 years and are blessed with four children: Vince, Marco, Raya, and Gino. Follow Donna's social media channels: Website: @homescool.ph Instagram: @donnasimpao Facebook: @Teacher Donna, M.D. and @Let's Talk with Felichi and Dr. Donna
Shipping and Delivery:
Products are shipped around 3-5 business days in Metro Manila, and 5-7 business days outside Metro Manila, upon payment confirmation.
Weekends and Holidays not included.