Count it All Joy: The Ridiculous Paradox of Suffering (OM)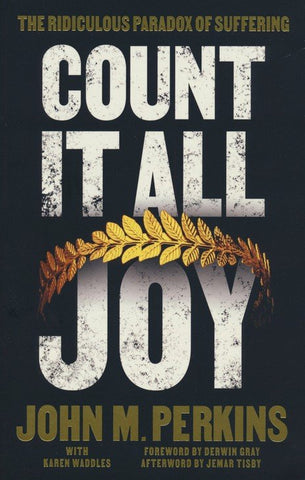 Count it All Joy: The Ridiculous Paradox of Suffering (OM)
ISBN: 9780802421753
Weight: 0.2 kg
Description:
Product Description
Can joy come from suffering? In Count It All Joy, you will be encouraged to lean into suffering when it comes your way, stand alongside others who suffer, and believe that God will repurpose your suffering according to His good plan. God doesn't intend your life to be free of all suffering. Instead, He wants you trust Him in the midst of it and discover the unexpected joy that trials can produce.

John Perkins' response to suffering at the hands of a white sheriff in a Mississippi jail became the springboard that God used to put him in front of U.S. presidents, international politicians, and evangelical church leaders. Perkins sees endurance in suffering as a virtue that makes us more like Christ and ultimately produces uncommon joy in the heart of the sufferer who trusts in Him. Christ walked the path of love all the way to the cross, and even in the midst our brokenness, we can do the same.
Product Information
Title: Count it All Joy: The Ridiculous Paradox of Suffering
By: John M. Perkins, Karen Waddles
Format: Paperback
Number of Pages: 176
Vendor: Moody Publishers
Publication Date: 2021
Dimensions: 8.5 X 5.5 X 0.42 (inches)
Weight: 7 ounces
ISBN: 080242175X
ISBN-13: 9780802421753
Shipping and Delivery:
Products are shipped around 3-5 business days in Metro Manila, and 5-7 business days outside Metro Manila, upon payment confirmation.
Weekends and Holidays not included.