Commentary on the New Testament Use of the Old Testament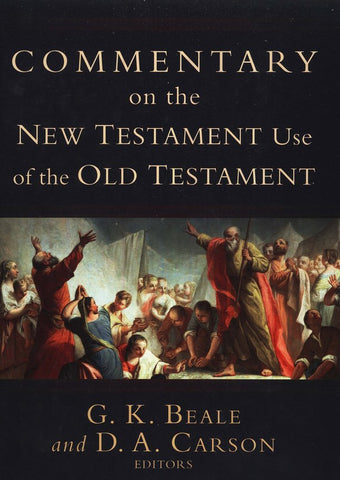 Commentary on the New Testament Use of the Old Testament
ISBN: 9780801026935
Weight: 2.0 kg
Description:
Readers of the New Testament often encounter quotes or allusions to the Old Testament that may be unfamiliar or obscure. In the Commentary for the New Testament use of the Old Testament, G. K. Beale and D. A. Carson have brought together a distinguished team of scholars to isolate, catalog, and comment on both the obvious Old Testament quotations and the more subtle allusions found in the New Testament. The result is a comprehensive commentary on the Old Testament references that appear from Matthew through Revelation. It is a vital resource for the reference library of every student of the New Testament, and accessible for all who wish to engage in detailed Bible study.

Contributors:

Craig L. Blomberg (Gospel of Matthew)
Rikk E. Watts (Gospel of Mark)
David W. Pao and Eckhard J. Schnabel (The Gospel of Luke)
Andreas J. Kostenberger (The Gospel of John)
I. Howard Marshall (Acts)
Mark A. Seifrid (Romans)
Roy E. Ciampa and Brian S. Rosner (1 Corinthians)
Peter Balla (2 Corinthians)
Moises Silva (Galatians and Philippians)
Frank S. Thielman (Ephesians)
G. K. Beale (Colossians)
Jeffrey A. D. Weima (1 and 2 Thessalonians)
Philip H. Towner (1 and 2 Timothy and Titus)
George H. Guthrie (Hebrews)
D. A. Carson (the General Epistles)
G. K. Beale and Sean M. McDonough (Revelation)
Product Information
Title: Commentary on the New Testament Use of the Old Testament
By: Edited by G.K. Beale & D.A. Carson
Format: Hardcover
Number of Pages: 1,152
Vendor: Baker Academic
Publication Date: 2007
Dimensions: 10.25 X 7.50 X 2.25 (inches)
Weight: 4 pounds 5 ounces
ISBN: 0801026938
ISBN-13: 9780801026935

Shipping and Delivery:
Products are shipped around 3-5 business days in Metro Manila, and 5-7 business days outside Metro Manila, upon payment confirmation.
Weekends and Holidays not included.