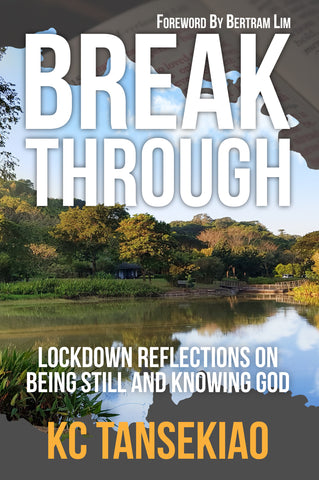 Break Through
ISBN: 9789710098859
Weight: 0.032 kg
Description:
"The past months really taught me how to be still and to know who my wonderful and amazing God really is."

"God will see us through . . . things will be good."

"The Lord constantly sparks our hearts to continue on, in spite of the progress that we are seeing."

"Surrender your worries to Christ, get up, and run again!"

"Imagine the wonders that God can do for you if you only put your trust and faith in Him."

"Our battle scars are reminders of our God's faithfulness."

"By accepting God's love for us, who is Jesus, we receive true freedom that this world can never give."

"By God's grace, we can share the love we have received from Him to others, so that they, too, can experience the object of our trust."
The lockdowns brought about by the COVID-19 pandemic placed the world at a standstill. Governments, businesses, families, and individuals were left feeling helpless and trying to manage this new unraveling reality.
Break Through chronicles KC Tansekiao's daily reflections as he ponders on life and faith while in quarantine brought about by the COVID-19 pandemic. By abiding on the leading of the Holy Spirit, he breaks through the barriers put up by anxiety and uncertainty over the future.


Number of Pages: 195
Book Dimension: 15.5 x 22 x 1 (cm)

Shipping and Delivery:
Products are shipped around 3-5 business days in Metro Manila, and 5-7 business days outside Metro Manila, upon payment confirmation.
Weekends and Holidays not included.