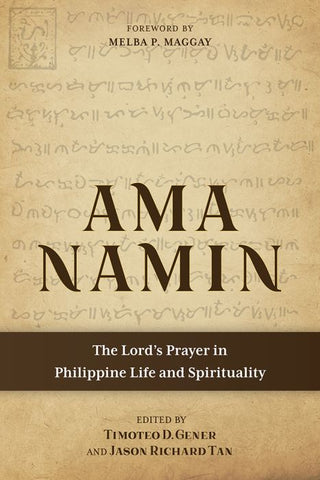 Ama Namin: The Lord's Prayer in Philippine Life and Spirituality
ISBN: 9781839732676
Weight: 0.8 kg
Description:
PRODUCT DESCRIPTION
The Lord's Prayer unites Christians throughout history, speaking across the divides of language, place, and tradition. The oldest prayer of the church, it continues to speak to the lived reality of believers around the world, while inviting the body of Christ into a deeper understanding of the nature of God, discipleship, and the calling to holistic mission.
Ama Namin brings together the voices of Filipino evangelical scholars in a profound work of contextual and biblical theology. Each chapter explores a portion of the Lord's Prayer against the backdrop of Scripture and the foreground of Philippine life and spirituality. Contributors examine the rich history of the Lord's Prayer in the Philippines – a history dating back to the first printed translation in 1593 – as well as its implications for the Philippines' future, providing the church a foundation for public engagement and social transformation.
Ama Namin provides a valuable teaching resource for the Philippine church and for all those longing to deepen their understanding of prayer, the contextualization of Scripture, and the love of the heavenly Father.
PRODUCT INFORMATION
ISBN: 9781839732676
Imprint: Langham Global Library
Format: Paperback
Dimensions: 229 x 152 x 11 mm; 9 x 6 x 0.4 inches; 22.9 x 15.2 x 1.1 cm
Publication Date: 31/03/2023
Pages: 206
Language: English
Shipping and Delivery:
Products are shipped around 3-5 business days in Metro Manila, and 5-7 business days outside Metro Manila, upon payment confirmation.
Weekends and Holidays not included.