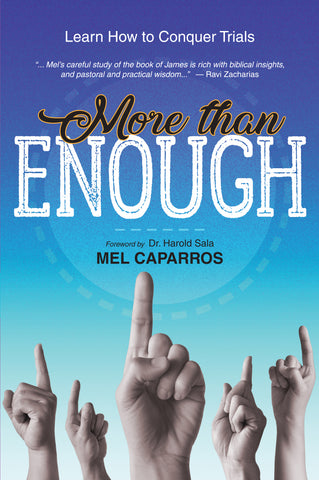 More Than Enough
ISBN: 9789710098729
Weight: 0.27 kg
Description:
Do you want to know how to conquer trials and sufferings in Christ? In More than Enough, Pastor Mel Caparros gives us the believer's prescription for overcoming trials, using passages from the Book of James and his own life experiences. He talks about conquest through our God who is more than enough to meet our needs, so that we may emerge victorious in whatever sufferings we face.
This book explores the theme of conquest—our redemptive victory
over trials and suffering.
Chapter 1: The Beginning Conquest
Chapter 2: Conquest of the Mind
Chapter 3: Conquest by Praying for God's Wisdom
Chapter 4: Conquest through an Honest Conversation with God
Chapter 5: Conquest through God's Wisdom in His Word
Chapter 6: Conquest by Praying in Faith
Chapter 7: Conquest by Perseverance
Chapter 8: Conquest by Patience (part 1)
Chapter 9: Conquest by Patience (part 2)
Chapter 10: Conquest by Prayer and Praise
Chapter 11: Conquest by Sickness and Sin
Chapter 12: Conquest through Effective Prayer
Shipping and Delivery:
Products are shipped around 3-5 business days in Metro Manila, and 5-7 business days outside Metro Manila, upon payment confirmation.
Weekends and Holidays not included.
Also available at:
Related products