This Season of Grief: Stories, Poetry, Prayers, and Practical Help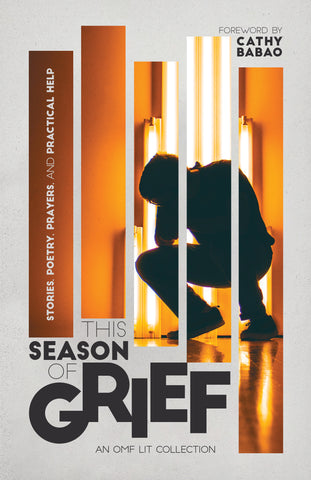 This Season of Grief: Stories, Poetry, Prayers, and Practical Help
ISBN: 9789710098903
Weight: 0.17 kg
Description:
In this season of grief, many have suffered different kinds of loss.

We've suffered the loss of the physical—loved ones, our health, income, possessions. We've suffered the loss of the intangibles— freedom, memories, justice, peace. We've also suffered the loss of the ambiguous; we know we have lost them even though we could not name them. We feel all these losses and cry out in a collective, pandemic grief.

This book comes alongside those grieving many kinds of loss — not as an authority hurriedly dismissing a grief but rather, as a gentle friend who says, "I understand…"

Through stories, poetry, prayers, and practical help, this book brings comfort and hope to those languishing in this season of grief.

With writings by:

Ang Tala
Albit Rodriguez
Annabel Manzanilla-Manalo
Carmelo "Mel" Caparros II
Dan Andrew S. Cura
Feliz Lucas
Francis Kristoffer L. Pasion
Ida Torres
J.M.
j. p. berame
Joanna Nicolas-Na
Joey L. Castillo, Jr.
Jophen Baui
Joyce Tongson-Manalang
Karen Huang
Larry Pabiona
Lourdes Batac
Maloi Malibiran-Salumbides
Maria Susan Gonzalez-Lim
Maria Teresa Banzagales-Abiva
Melba Padilla Maggay
Melvin Jansen Ang
Michellan Sarile-Alagao
nathania aritao
Nicodemo S. Estrada
Philip Manuelson D. Arandia
Rico Villanueva
Timothy Ervin T. Ngo
Yna S. Reyes

Foreword by: Cathy Babao
Shipping and Delivery:
Products are shipped around 3-5 business days in Metro Manila, and 5-7 business days outside Metro Manila, upon payment confirmation.
Weekends and Holidays not included.