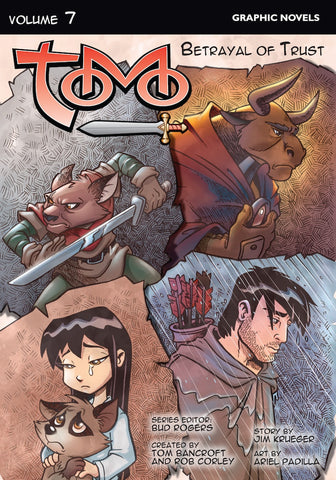 Tomo #7: Betrayal of Trust (SALE ITEM)
ISBN: 9789710090228
Weight: 0.2 kg
Description:
 *DISCLAIMER: Please note that this is a sale item and may have some slight imperfections.
In this latest installment, Hana and Tomo rejoin Jou and the rebel forces back in Argon Falls, and Hana learns that the leader of the rebellion is actually her father. Their reunion is cut short as the battle between the rebels and Ardath and Urn'Ado heightens. Will the kingdom of Argon Falls be released from the lies of Urn'Ado, or will the people complete their transformation into animals?
Shipping and Delivery:
Products are shipped around 3-5 business days in Metro Manila, and 5-7 business days outside Metro Manila, upon payment confirmation.
Weekends and Holidays not included.